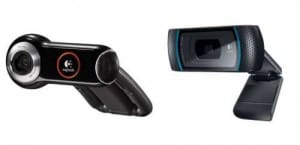 Not all webcams are built the same, so it is important to use the right webcam when setting up your photo booth with Sparkbooth. Here some quick tips and resources to help you with decisions and setup:
Do not use the built-in webcam in most Windows laptops. A lot of these cameras are really cheap, and the maximum resolution of the video is typically 640px by 480px which will give you very pixelated photos. Skip the built-in webcam and get a high-quality USB webcam.
The Logitech 9000 and Logitech C910 are the most popular webcams for Sparkbooth. Only install the drivers for these cameras, and do not install the accompanying software - they tend to interfere with the performance of the webcam.
Some Sparkbooth users prefer the older Logitech 9000 over the newer the Logitech C910, because of its reliability. I have not experienced any failures of the C910, but it has been reported at the Sparkbooth support site. If this happens to you, it is a good idea to have a backup webcam ready as a replacement to swap out the failed webcam.
For Mac laptop users, the built-in webcam or iSight is much better than the built-in ones for Windows laptops. But a USB webcam can still improve the video. There is an issue using a USB webcam on Macs with a built-in webcam, Adobe AIR only sees the built-in camera. Try these workarounds - be warned, it doesn't work for all Macs.
Also for Mac users, do not install Adobe AIR 3.2 - it does not scale the video correctly so everything looks squished. Rollback to Adobe AIR 2.7.1 to fix this.
If your guests are moving around a lot when photos are being taken and resulting blurry photos, try turning on the countdown in-between shots - it will let them know to get ready before the next shot.
Finally, lighting is very important when using a webcam. Check out these lighting tips which will help improve the video and photo quality.