The recent release of Sparkbooth allows photo uploads to Facebook Fan Pages that you administer. You can create pages around your interests, businesses, or anything. To setup a Facebook page:
Sign into your Facebook account
Go to Facebook Fan Pages and create your page
For more information on how to create Facebook Pages, see this helpful article.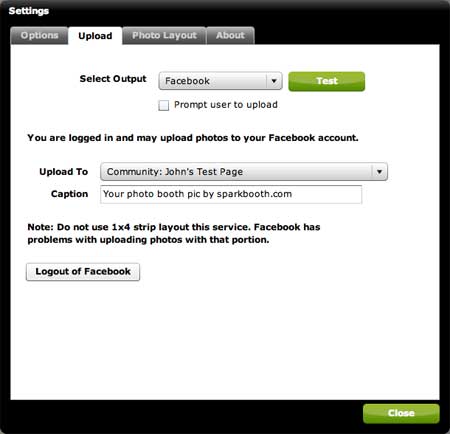 Now you are ready to setup Sparkbooth to post photos to your Facebook page:
Start Sparkbooth
Press F1 to display Settings
Select the Upload tab
Select Facebook from the uploader list
Click the "Login to Facebook" button and authorize Sparkbooth to upload to your account
Select the Page in the "Upload To" list
Click the OK button and you are ready to go. Photos will be uploaded and posted to your Page's Sparkbooth album (which you can rename) at the end of each photo session.
This is a beta feature so please let me know how it works for you and if you have any suggestions.