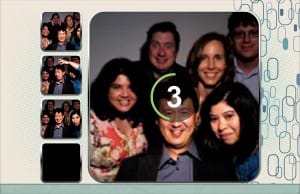 Sparkbooth 3.5 is now available in both Consumer and Commercial editions. Both deliver an easy and affordable way to set up an instant photo booth at any location or special event. The new Commercial edition includes advanced capabilities for event planners, business professionals and service providers.
Change new to Sparkbooth 3.5:
New animations for countdown and previews
Added new Retro theme
Added Photobucket uploader
Added Google+ / Picasa uploader
Added more 4 x 8 layouts
No longer need to pre-install Adobe AIR runtime
Commercial only features:

Photo album kiosk mode
Take wide 4 x 6 photos, not just square photos
Customize Facebook uploader share link
Customize Twitter uploader share link
Sparkbooth 3.5 is available immediately. The Consumer edition is priced at $59, and the Commercial edition at a special introductory price of $100. Free trial versions are available for both.
If you have already own a Sparkbooth 3 license, this is a free upgrade. Sparkbooth 3.5 is a separate install, so you will need to activate it with your license key. If you want to upgrade your license key to a Commercial license key, please stay tune - upgrade pricing will be available soon.