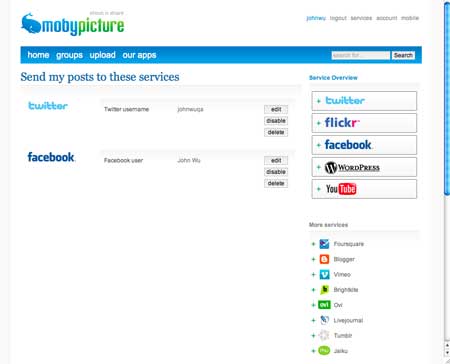 You have an account on Twitter, Facebook, Flickr, and your own Wordpress blog, and you want Sparkbooth to upload photos to all of these sites? I suggest you check out MobyPicture.com. MobyPicture provides a service to upload photos to all your accounts, when you post a photo to MobyPicture. Sparkbooth has uploaders that uses your MobyPicture or Twitter account to upload to MobyPicture. To add all your accounts to uploading in MobyPicture:
To go MobyPicture.com
Sign into your account
Click the "services" link at the top of the page to add your Facebook, Twitter, Flickr, Wordpress, and other accounts
Start Sparkbooth
Press F1 to display Settings
Select the Upload tab
Select "MobyPicture" or "MobyPicture Twitter" from the upload list. Use MobyPicture to sign in using your MobyPicture account username. Use MobyPicture Twitter, if you want to sign in using your Twitter account.
Press the OK button and now photos will be uploaded to MobyPicture and from MobyPicture to your other accounts.