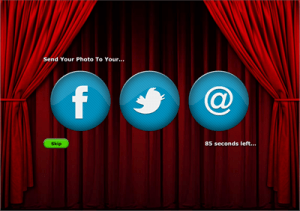 Sparkbooth 3.2.0 is now available. With this update, you can now let your guests choose where to send their photos. They will be presented with the option to upload the photo to their Facebook or Twitter account, or sent to their email address. To enable this feature, select "Guest Upload Chooser" in the settings Upload tab. If you want to email, you will need to select either SendGrid or Postmark for the email service, and provide your account credentials for the service.
Other changes include:
New look for touch controls.
Fixed display of virtual keyboard for email
New portrait images for layout selection preview. To re-generate the layout previews using the new portraits, go to Settings > select Options tab > select User Controls from drop down list > press the Reset button under Photo Layout Selection.